It's 5:45 pm on a Saturday evening in the beautiful Italian town you're calling "home" while you're in Italy.
The sun is gently falling behind the iconic medieval walls that surround this historic city with a gentle hug.
Dinner time is still hours away.
You make your way down the large stone steps of your building, unlatch the lock and slowly pull open the heavy front door.
After looking left and right, you step into the flow of one of the most beautiful Italian traditions…
"La Passeggiata" – the evening stroll.
Understanding La Passeggiata
La Passeggiata, which translates to "the walk," is a daily ritual for locals in both large cities and the smallest villages.
It's a leisurely walk, taken early in the evening before dinner time–usually between 5 and 8 pm.
Main streets, lively piazzas, and vibrant waterfronts are the backdrop for this cherished ritual.
But it's more than just a stroll; it's a time to connect, to embrace the present moment, and to celebrate life's simple joys.
Embracing Connection
Laughter and chatter fill the air as people of all ages share stories of daily happenings.
Neighbors greet each other with warm smiles, children playfully race ahead, and elderly couples lean on each other, creating an experience of interconnectedness that's as heartwarming as it is inspiring.
Dressing To Impress
Italians take pride in their appearance (otherwise known as "la bella figura"). La Passeggiata is their catwalk.
During the work week you'll see more casual, but always stylish dress.
The weekends are definitely a time to make more of a statement.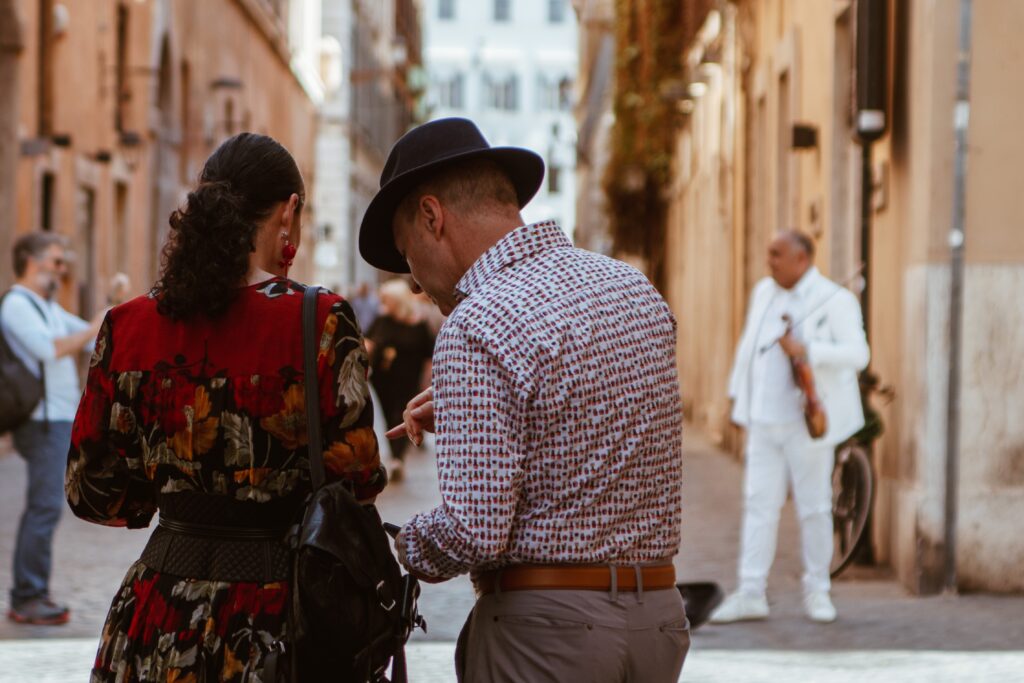 Pre-Dinner Treats And What Happens Next
The cafes and gelaterias are bustling. It's the perfect time to savor a gelato, sip an espresso, or enjoy an aperitivo with friends and family.
La Passeggiata concludes by 8 pm when people have parted ways to enjoy time together dining at local restaurants or at home together.
Conclusion:
The next time you're in Italy participate in this beautiful walk! This cherished tradition invites you to slow down, connect with locals, and savor the simple joys of each moment.
With gratitude for moments of connection and the beauty of evening strolls,
Amy