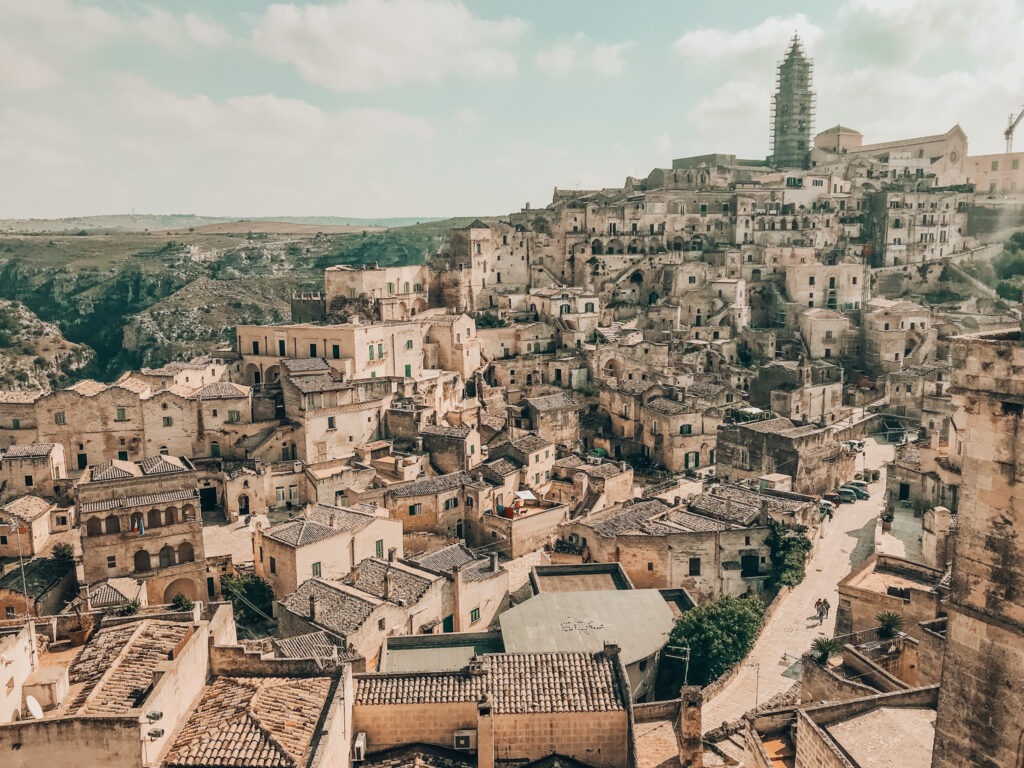 Did you know that there's a city in Italy that you can visit that's been lived in for over 9,000 years?
If you're visiting southern Italy, add Matera to your itinerary for a one-of-a-kind immersive experience in this beautiful city and its cave hotels.
Location and History
Located in the region of Basilicata in southern Italy, Matera is a living architectural wonder that is comprised of a complex network of caves and rock-cut dwellings called "Sassi" in Italian.
People carved out these caves from the soft limestone terrain, creating a labyrinth of narrow streets and interconnected dwellings that served as homes, churches, and businesses for generations of Materans.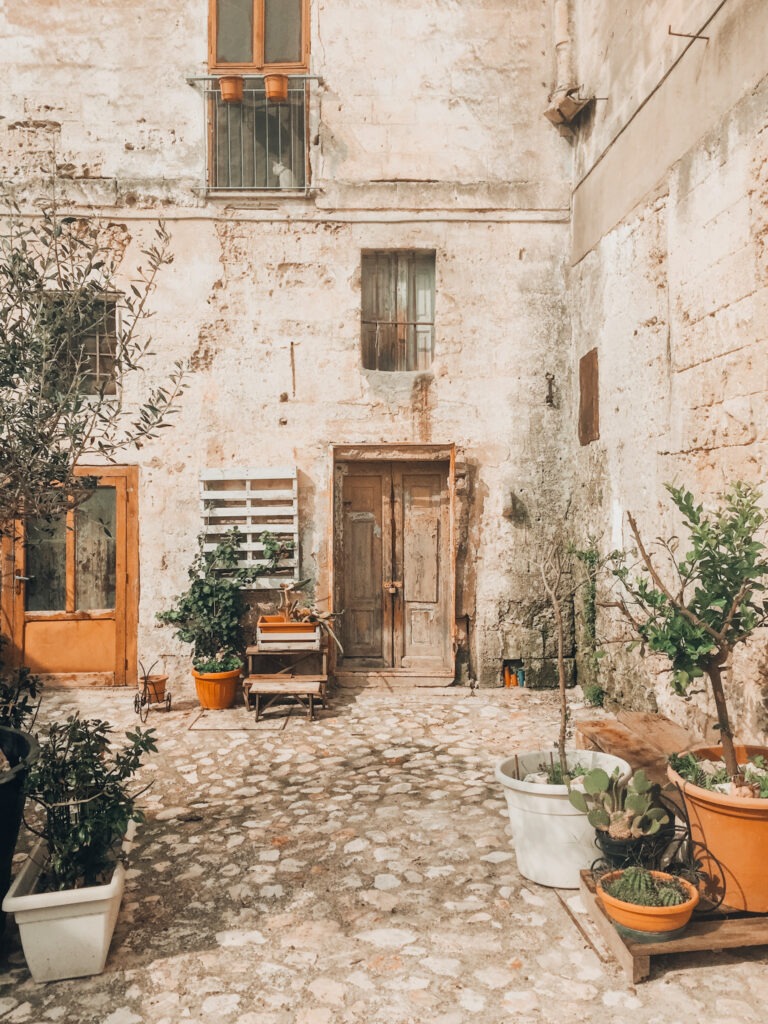 In the mid-20th century, Matera faced a significant transformation.
The Italian government declared the Sassi of Matera uninhabitable due to poor living conditions and a lack of modern amenities.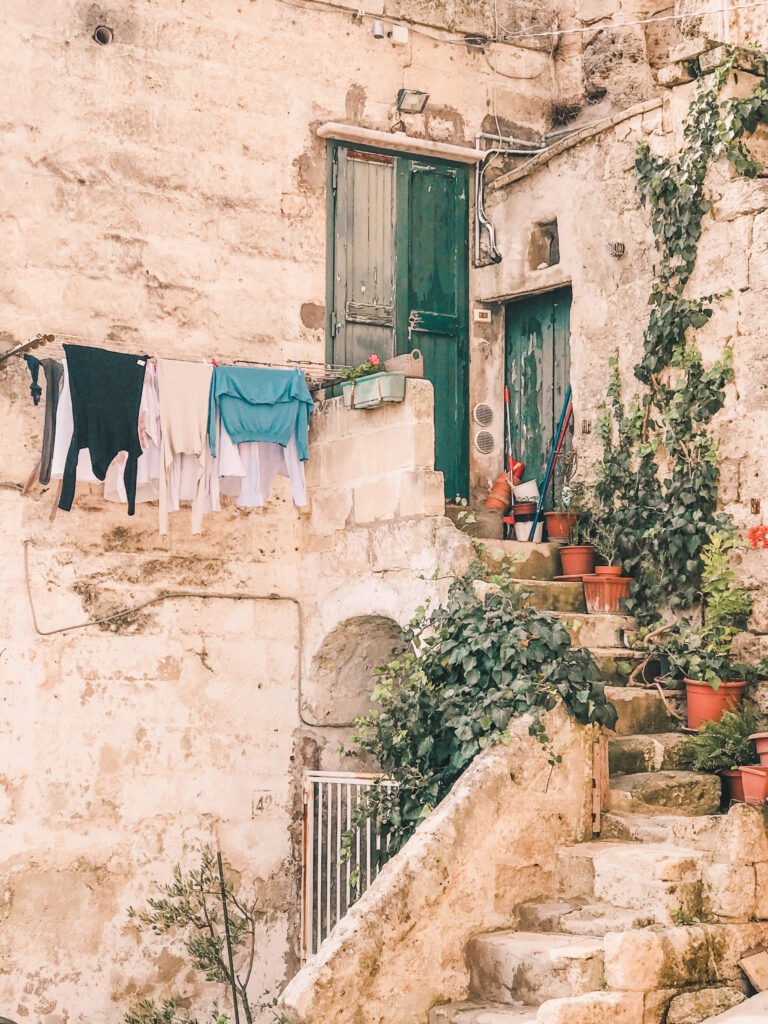 This led to a massive relocation effort, where the cave dwellers were moved to new residences in the city.
While this was undoubtedly a challenging period for Matera's residents, it paved the way for the preservation and restoration of the Sassi.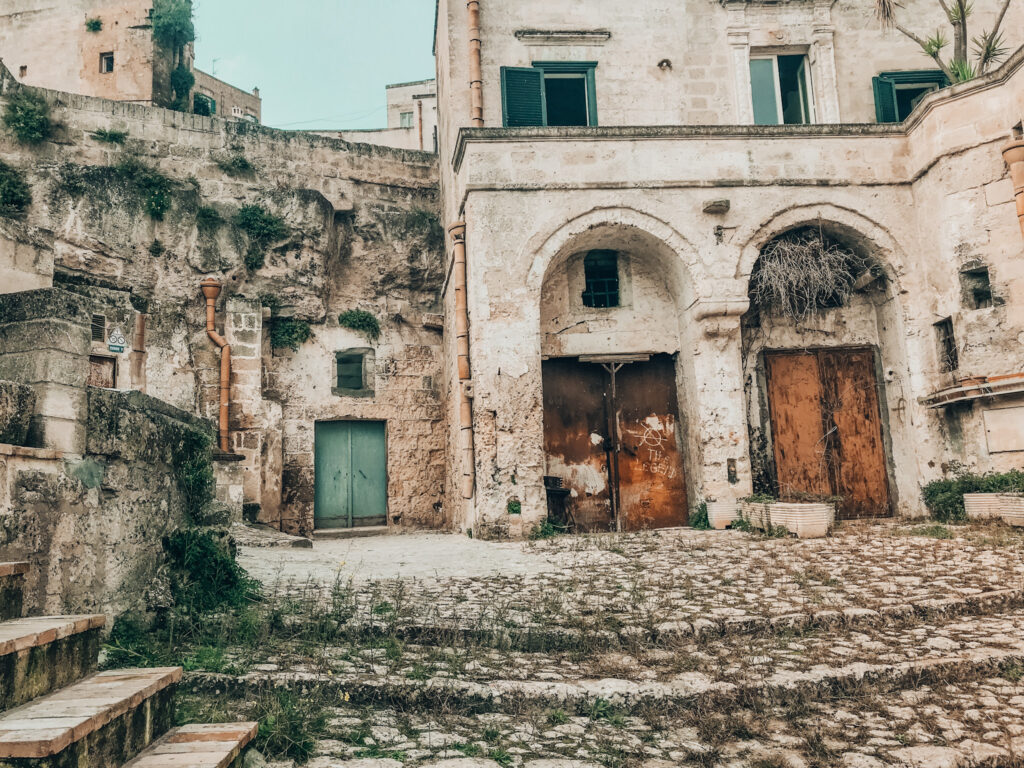 In 1993, UNESCO recognized the historical and cultural significance of Matera by designating it as a World Heritage Site.
This designation was a testament to the city's commitment to preserving its unique cave dwellings and rich history.
When to Visit and How Long to Stay
I visited Matera in October. The weather was perfect and the crowds were manageable.
We added a three-night stay in Matera to our itinerary exploring the adjacent region of Puglia.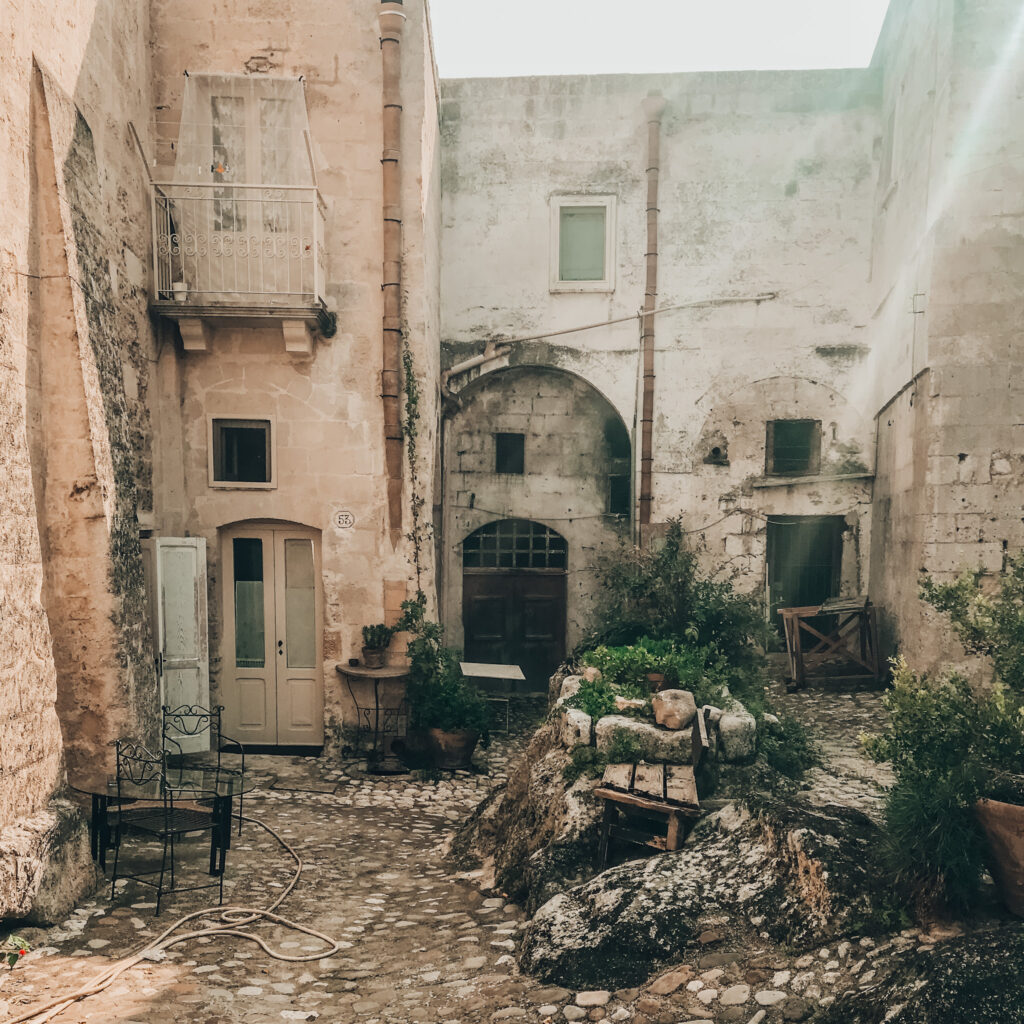 The best times to visit Matera are in the spring (April to June) and fall (September to October) when the weather is pleasant, and the crowds are fewer.
Summers can be quite hot, and winters are relatively mild but can be rainy.
To fully immerse yourself in Matera's charm, plan to stay for at least two or three days.
How to Get There
If Matera is the first stop on your itinerary, fly into Bari Karol Wojtyła Airport (BRI).
There is bus service available from the airport to Matera which takes about an hour and fifteen minutes.
You can also rent a car, which is what we did, and drive directly which takes a little less than an hour.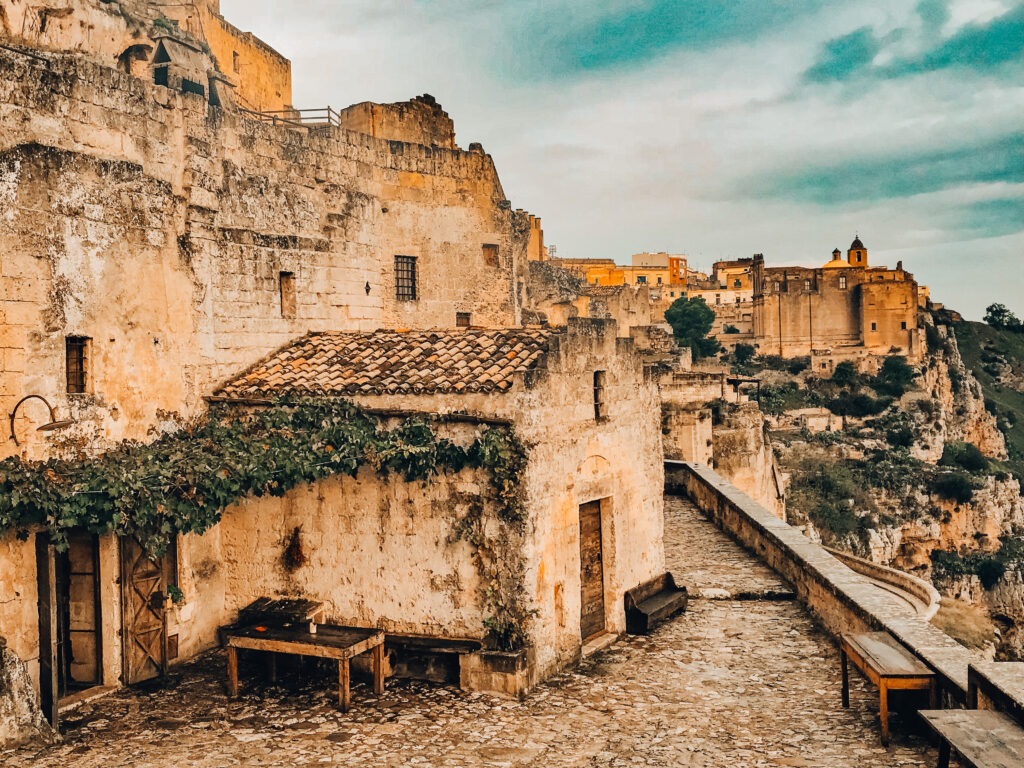 The Cave Hotel Experience
Now, let's talk about one of the most enchanting aspects of Matera: its cave hotels.
Over the last few decades, many of the ancient "sassi" were turned into hotels offering an incredible immersive experience.
These unique accommodations allow you to step back in time while enjoying modern comforts.
Staying in a cave hotel allows you to connect with Matera's history on a deeply personal level.
It's an experience you won't easily forget, waking up in a cave room and stepping out into the narrow streets of Matera.
Where We Stayed
My husband and I stayed at the Sextantio Le Grotte Della Civita, a cave hotel that has gained international acclaim for its exceptional preservation of the cave dwellings.
The hotel is located away from the bustling city center, offering a quiet and relaxing stay where you can unwind and enjoy the tranquility of the cave surroundings, making it an ideal retreat from the modern world.
Cave Hotel Rooms
These caves have been beautifully transformed into comfortable and stylish rooms, combining contemporary amenities with historical charm.
The rooms featuring vaulted ceilings, stone-carved walls, and arched doorways, come in various sizes, ranging from cozy to spacious suites.
We stayed in Cave 19 which has a panoramic window overlooking the Murgia Valley.
This romantic suite has a comfortable ergonomic king-size bed with sheets and bedding of handcrafted linen.
The room is decorated with artisanal pottery and natural candles and has a welcome kit with spring water and fresh fruit.
Open Air Terrace and Cave Restaurant
The hotel has a beautiful terrace that overlooks the Murgia Valley.
In late afternoon local wines, teas, crackers, and snacks are offered to hotel guests in the unbelievable open-air space.
In the morning, breakfast is served in the XIII Century Cave Church. Cakes, pastries, biscuits and cookies, marmalades, cheeses, and salumi are for the most part produced in a local organic farm nearby, or hailing from trusted artisan producers in the vicinity.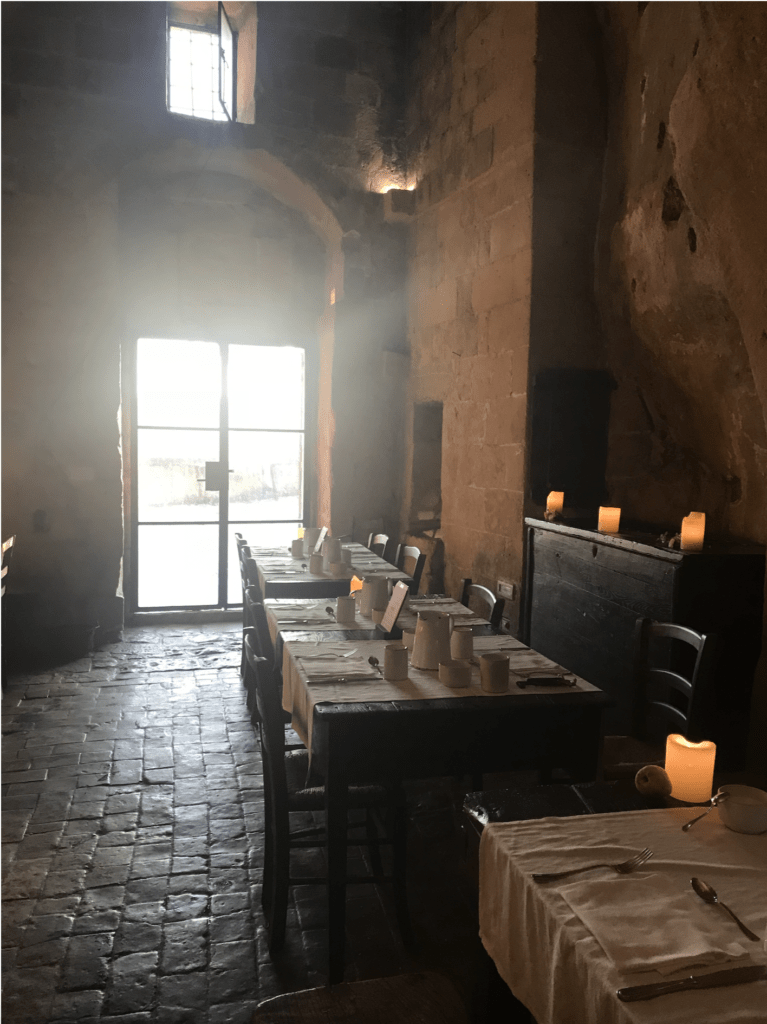 Outstanding Service
The staff at Sextantio offered us warm hospitality and personalized service.
Whether we needed assistance with recommendations for exploring Matera or any other requests, the team was always attentive to our needs.
If you have a rental car, be sure to call the reception staff ahead of time to let them know when you'll be arriving.
Driving cars is not allowed on most streets in the ancient city.
The staff will give you a designated address where they will meet you. From there they will take your car to an offsite parking location.
We never left the city during our stay, but if you need the car during your stay, the reception staff will make arrangements to have the car brought to you.
Reserve Your Stay at Sextantio Le Grotte Della Civita Book Now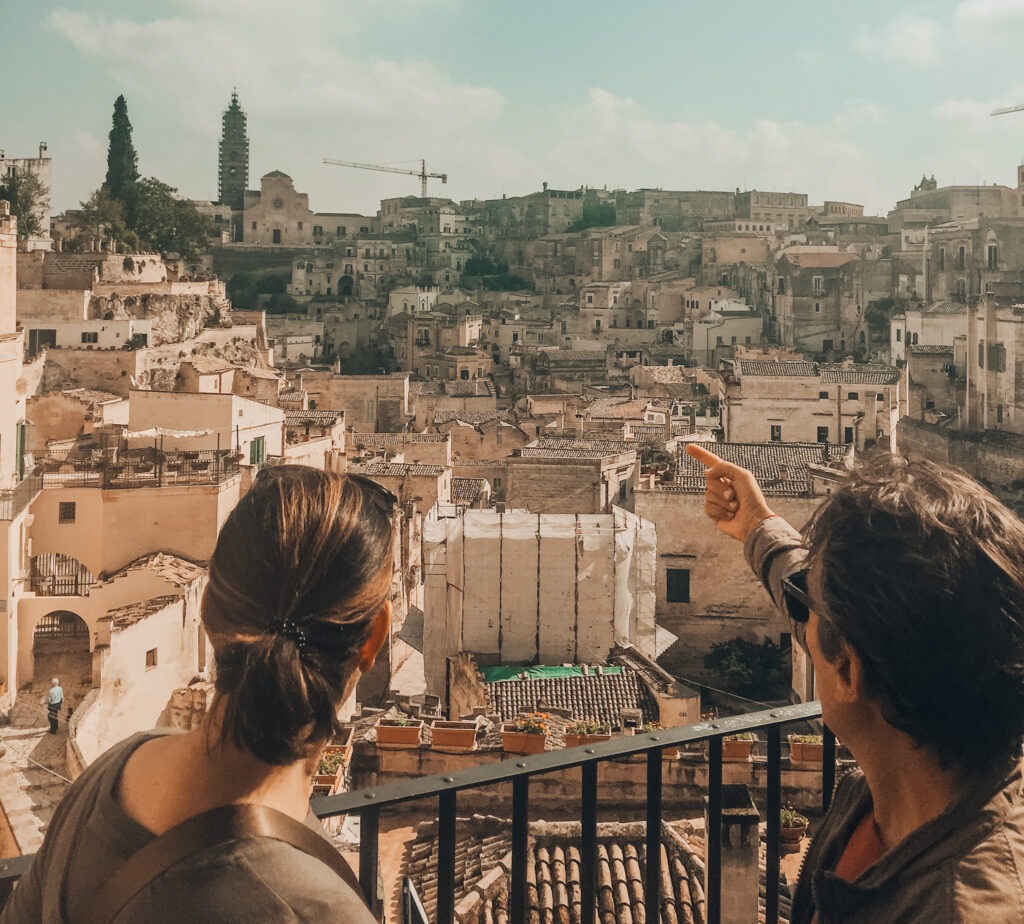 What to See in Matera
Matera is a city brimming with history, culture, and architectural wonders. Here are some must-visit places that will help you make the most of your trip:
The Sassi di Matera: This ancient cave city is the heart of Matera and a UNESCO World Heritage site. Explore the winding streets, cave dwellings, and cave churches of both the Sasso Caveoso and Sasso Barisano districts. It's a step back in time that you won't want to miss.
Casa Grotta di Vico Solitario: This preserved cave house offers a fascinating glimpse into the daily life of Materans in the past. You can see how families lived in these cave dwellings, complete with furniture and tools.
Matera Cathedral (Cattedrale di Matera): Located in Piazza Duomo, this cathedral is a stunning example of Matera's architectural heritage. Its facades, statues, and interior artwork are worth exploring.
Piazza Vittorio Veneto: This central square offers a great starting point for your Matera adventure. It's surrounded by cafes and restaurants, making it an ideal spot for people-watching.
Murgia Materana Park: Just outside the city, this park is known for its dramatic landscapes, hiking trails, and rock-cut churches. It's an excellent place for a nature walk and panoramic views of Matera.
Palombaro Lungo: This ancient underground water cistern is a fascinating architectural feat. It's one of Matera's hidden gems and offers a glimpse into the city's underground infrastructure.
Church of Santa Maria Idris: Visit this rock-hewn church and monastery, perched on a hillside overlooking the Sassi di Matera. The views from here are breathtaking.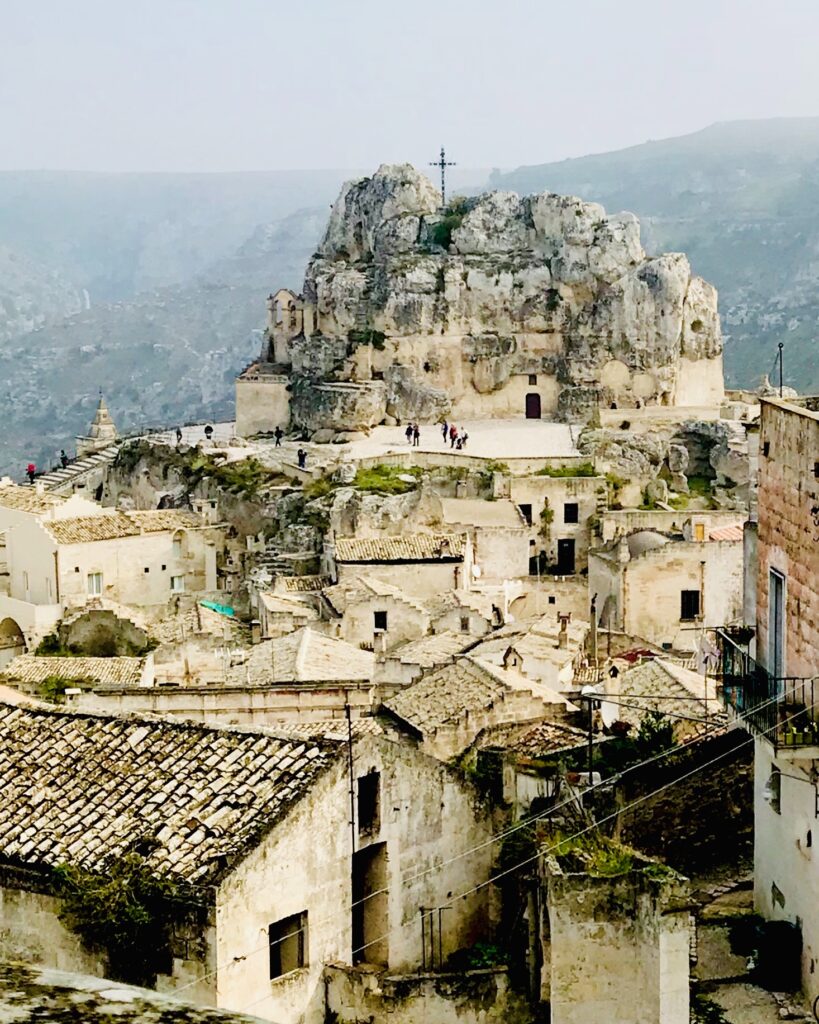 Tours of Matera:
Tour of Matera on an Italian Ape Calessino Vehicle Book Now
Private walking tour in Matera Book Now
Tour of Parco Murgia Book Now
Matera's Cuisine And Where To Eat
Matera's cuisine is a reflection of the region's rich agricultural heritage and traditional Southern Italian flavors.
When dining in Matera, you'll discover that the emphasis is on fresh, locally sourced ingredients and simple yet flavorful preparations. The city's historic trattorias and restaurants offer a warm welcome, inviting you to savor the tastes of Matera's culinary traditions while enjoying the unique ambiance of this ancient city.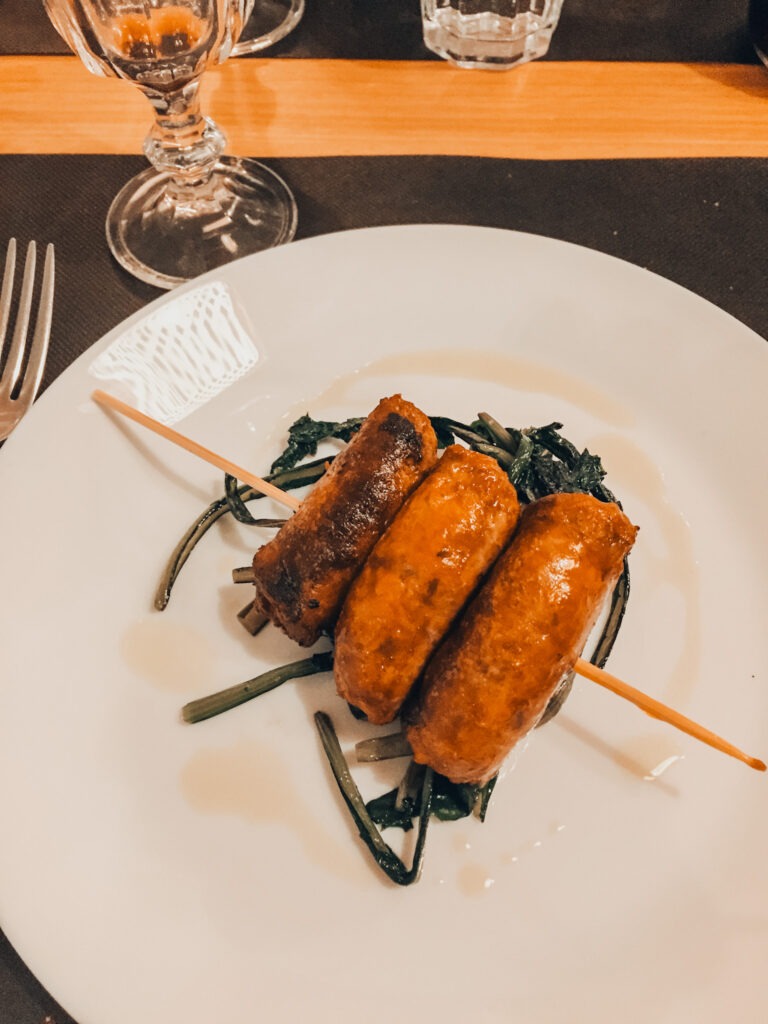 Here are some highlights of Matera's culinary scene, which are also explored in this regional cookbook by Claudi Rinaldi.
1. Bread of Matera (Pane di Matera): Matera is famous for its unique bread, which is made using local durum wheat semolina. The bread has a distinct shape, with a hard crust and a soft, airy interior. It's often used as a base for various dishes or simply enjoyed with local olive oil.
2. Cavatelli: These small, shell-shaped pasta are a staple in Matera's cuisine. They are typically served with a variety of sauces, including tomato-based sauces or simple garlic and olive oil preparations.
3. Lucanica Sausage: This flavorful sausage is a regional specialty, made with pork and seasoned with a mix of aromatic herbs and spices. It's often grilled and served with roasted vegetables or in pasta dishes.
4. Peperoni Cruschi: These dried, crunchy red peppers are a popular snack in Matera. They can also be rehydrated and used to add a unique crunch and smoky flavor to various dishes.
5. Orecchiete: While orecchiette pasta is more commonly associated with the nearby region of Puglia, it's also enjoyed in Matera. The name "orecchiette" means "little ears" in Italian, describing the pasta's shape. It's often served with broccoli rabe and garlic.
6. Caciocavallo Podolico: This cheese is made from the milk of the Podolica cow, a breed that thrives in the rocky terrain of Matera and surrounding areas. The cheese has a unique and slightly tangy flavor, and it's often enjoyed with local honey.
7. Grilled Lamb: Matera's rugged landscape is ideal for raising sheep and goats, and lamb dishes are quite popular. Grilled lamb chops or skewers are often seasoned with local herbs and served with roasted potatoes.
8. Pasticciotto Materano: For dessert, don't miss this delightful pastry filled with custard cream. It's often enjoyed with a dusting of powdered sugar and a strong espresso.
9. Prickly Pear: You'll find prickly pear cactus fruits, known as "fichi d'India" in Italian, in abundance in Matera. The sweet and refreshing fruit is typically eaten fresh or used to make jams and liqueurs.
10. Local Wine: The region of Basilicata, where Matera is located, produces some excellent wines. Aglianico del Vulture is a notable red wine known for its robust flavor and deep red color. It pairs wonderfully with the hearty local cuisine.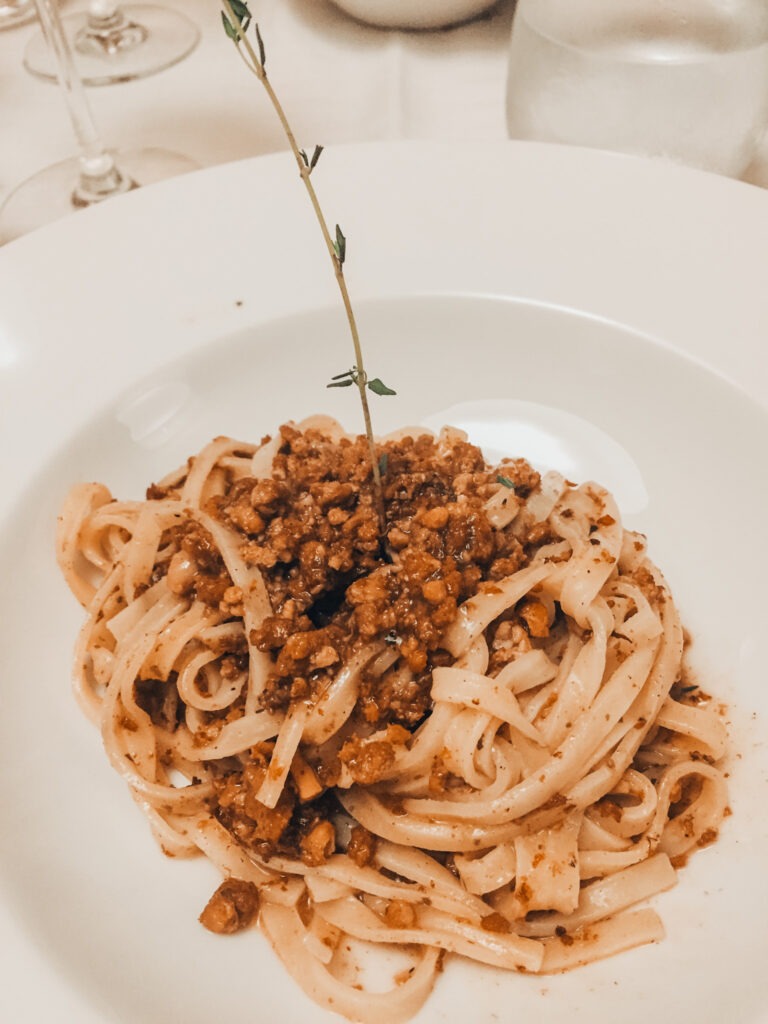 Restaurants in Matera
Reservations: Given its popularity and limited seating capacity, it's advisable to make reservations in advance, especially during the tourist season.
La Nicchia Nel Sasso
La Nicchia nel Sasso is a small, intimate restaurant with a cave-like interior. The name means "the niche in the rock" in Italian.
The restaurant serves traditional Basilicata cuisine, with a focus on fresh, local ingredients. The menu changes seasonally, with dishes like cacioricotta (sheep's milk cheese), orecchiette (ear-shaped pasta), and pane di Matera (a type of bread made with durum wheat flour).
La Nicchia nel Sasso is a popular restaurant with both locals and tourists. It has a cozy atmosphere and friendly service. If you are looking for a unique dining experience in Matera, La Nicchia nel Sasso is a great option.
La Lopa
La Lopa is a restaurant located in the heart of Matera. It is a small, family-run restaurant that serves traditional Basilicata cuisine.
The name "La Lopa" means "the she-wolf" in Italian, and the restaurant's logo is a she-wolf suckling Romulus and Remus, the legendary founders of Rome. The restaurant is committed to using only the freshest, highest-quality ingredients, which are sourced from local farms and producers.
La Lopa has a cozy, intimate atmosphere. The dining room is located in a cave-like setting, with exposed stone walls and low ceilings. This creates a warm and inviting ambiance, perfect for a romantic dinner or a special occasion.
The service at La Lopa is attentive and friendly. The staff is happy to make recommendations and help you choose the perfect dishes.
Il Rusticone
Il Rusticone is a casual restaurant that serves street food and pizza.
The name "Il Rusticone" means "the rustic one" in Italian, and the restaurant's atmosphere reflects this. The dining room is small and unpretentious, with exposed brick walls and simple wooden tables.
The menu at Il Rusticone features a variety of street food dishes, such as puccie (stuffed sandwiches), friggitelli (fried green peppers), and taralli (a type of savory doughnut). The restaurant also has a wood-fired oven, and they make their own pizzas.
The ingredients at Il Rusticone are sourced from local farmers and producers, and the food is prepared fresh to order. The prices are very reasonable, making Il Rusticone a great option for budget-minded travelers.
Osteria Pico
Osteria Pico is known for its warm and inviting atmosphere.
It prides itself on showcasing the flavors of Matera and the surrounding Basilicata region. One of the standout items is the cavatelli pasta with peperoni cruschi, a local delicacy made from dried peppers. This dish perfectly embodies the region's flavors and traditions.
The prices are reasonable, making Osteria Pico a popular option for both locals and tourists.
Conclusion
Matera, with its ancient heart and modern soul, awaits your discovery. As you curate your travel southern Italy itinerary, consider including Matera. With its cave hotels, timeless history, and delectable cuisine. It's a destination that promises a journey through time and a glimpse into a world unlike any other.
Amy Lamparelli
I help people curate authentic trips to Italy so they can avoid the tourist traps and travel their own way. I travel to Italy on a regular basis and recently bought a second home in Tuscany. My love affair with Italy grows stronger every time I visit because I focus on designing my trips in a way that allows me to immerse myself in the local culture at a relaxed pace. Download my FREE Authentic Italy Itinerary Planning Guide to learn the 3 steps to curating your next trip to Italy.